OK time for the big boy stuff. You got your Retroid in the mail and youre ready to show it off on Instagram, BUT you dont have anything on it yet! Let's make people jealous. Go ahead and cue up those videos you were supposed to save. Theyre embedded below too, but it's really best to have two windows open. and youre gonna pause a LOT, so uh.. be ready for that.
I cant possibly rewrite everything this video guide covers, but im going to break it up into sections and try to go over what you need to pay careful attention to, and which parts are optional, and generally just include anything i wish i had the first time around.
DESCRIPTION GUIDE
| | |
| --- | --- |
| | important to gameplay |
| | critically important; may not function properly if youre not careful |
| | optional step |
| | update since video release |
| | alternative settings i use/recommend |
YT Link:

BASIC DEVICE SETUP
2:10
Basic Settings
Turn On
Set Language
Set Wifi
Set Timezone
Enable Google Play services
SKIP Pre install apps (we're going to update them before installing in the next step)
Select BOTTOM Laucher (ADSP)
3:30

System Updates
Settings

System

Updater
Repeat until no updates left.

his starts at 1.0.0.5, and updates to 1.0.0.8
mine shipped at 1.0.0.8, and had one update available to 1.0.0.9
Return to Setup Wizard
Settings


Handheld


Advanced


Re-enter Set Up Wizard



Select Preinstall ALL apps

Retroid now ships with 30 pre-installable apps; there are only 14 in the Starter Guide video. I haven't used more than half of them, and ended up deleting quite a few. You can choose to install all of them, or look through this list of app descriptions first.
Select TOP Launcher (Retroid); or press the icon shown below to follow along if you are still in the ADSP launcher
EXPLAINING THE LAUNCHERS
Your Retroid comes with 2 launchers, and you can add more if you like.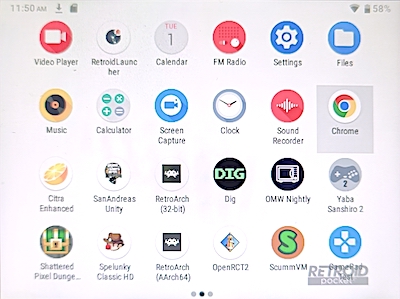 The ADSP launcher features all the stuff on your Retroid, and has small circle icons.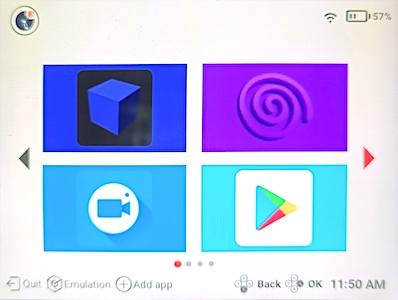 The Retroid launcher lives inside the ADSP one, and you can place all your gaming related apps inside this one. Kind of like a shortcut. It displays icons in big rectangles.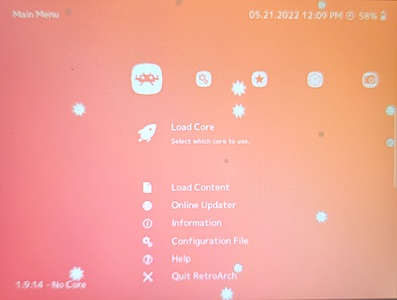 RetroArch 64 is the powerhouse of the cell. Its basically the settings for most, if not all, of your cores and roms, and it takes a while to set up.
Mine looks a little bit different because I customized it.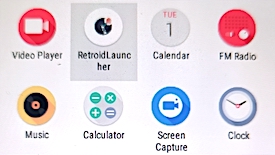 To Open the Retroid Launcher from the ADSP Launcher press this icon.

4:50
Adding Apps to Retroid Launcher
Open Retroid Launcher

Press 'Add App' at the bottom of the screen

Click any apps you want to show up as tiles in your 2nd (Retroid) Launcher.

App tiles will be shown in the order you add them.
Here are the apps I recommend:

| Gaming Apps | System Apps |
| --- | --- |
| RetroArch (AArch64)* | Google Play |
| Redream | Google Chrome |
| Flycast | Settings** |
| Dolphin | Gallery |
| M64Plus FZ | Files |
| AetherSX2 | Screencapture |
| PPSSPP | |
| Duckstation | |

Press 'Back' to return to Retroid Launcher and see the apps youve added


*There are two versions of RetroArch with the exact same icon, RetroArch 32-bit and Retro Arch AArch64. We are only going to use the Retro Arch 64 version, so only add the version with 64 in the title - this will avoid confusion during set up and the 32-bit one will still be there (accessible from ADSP) if you find an old console that requires it, which I have not.
** If you dont add this Settings tile, you can still access it by pressing 'Quit' in Retroid launcher. These are settings for the handheld itself, while settings for the gameplay will be in RetroArch.

5:36



Adding Apps from Google Play
Sign in with Google Play Account
click to add any apps you may want

if you only want to play old games this isnt necessary, and you can always add extra apps later


DraStic is the only paid app you will need ($5USD), and thats only if you want to play Nintendo DS games
Retroid now ships with AetherSX2 (PS2 core) so it should be pre-installed
7:00


Streaming Apps
If you just want a handheld to play older consoles you can skip these. While
possible
, streaming from Retroid isnt the best since the controls and processing power wont match those higher end games.
7:45


Android Games
again, if you only want to play older systems this wont be necessary, these section is for games you can already play on (and are optimized for) your phone.

8:50
Change Sleep Settings
Settings

Display

Advanced

Sleep
Choose 10- 30 min
8:46

Change Controls to Xbox Style
Settings

Handheld Settings

Input

Controller Style
I dont know why you want to do this

9:19
Set Up MicroSD Card
Pop in card (metal side up/facing screen)
Settings


Portable Storage
Let it add folders, select 'disk' to view, then press back.
Safely Eject by pressing icon on left (next to 'disk')


ADDING BIOS AND GAMES
Its BIOS time baby! Hopefully youve gone and read the
BIOS page
in this guide and have decided what route youre gonna take.

9:48

Adding BIOS
Insert Disk

Create 'Games' Folder


Create 'BIOS' folder inside 'Games' folder


Create 'PS2' folder inside 'BIOS'
Drag your PS2 Bios files inside:
SCPH-90001 Bios v18 USA 230 .DIFF
SCPH-90001 Bios v18 USA 230 .INF
SCPH-90001 Bios v18 USA 230 .MEC
SCPH-90001 Bios v18 USA 230 .NVM
SCPH-90001 Bios v18 USA 230 .ROM0
SCPH-90001 Bios v18 USA 230 .ROM1

If you followed the steps in
my BIOS guide
, you can drag the contents, with the two PS2 and DC subfolders containing the correct files, as is. But you should still double-check that these are what you have in the PS2 folder (if you want to play PS2, that is).
9:48
Adding Games
Insert Disk

Return to 'Games' Folder


Create a foler for each console you want to play inside 'Games' folder

drag your ROM files for each console into its console folder
13:34

GameCube Config files
Go to the Retro Handhelds Games Compatibility Spreadsheet

Click GameCube

Click the tinyurl link in Notes
Direct download link
HERE
Unzip, and Add contents to your Gamecube folder, if you have one.
Eject microSD card when finished
Return microSD card to Retroid


CONFIGURING RETROARCH
15:18

Basic RetroArch Settings
Open RetroArch-64

select Allow
Press Right on D-Pad twice for Settings

Select Drivers

Select Menu

Select 'xmb'
Press back twice to get back to Main Menu

select Configuration File
Press B* or Back on D-Pad to to Return to the Main Menu


Select 'Quit RetroArch
ReOpen RetroArch-64
Press Right to go into 'Settings'(2nd Column)


select 'User Interface'


select 'Appearance'


Change to '1.5'


This zooms in the text, however some lines get cut off, this guy seems to have the entire menu memorized and its not a problem, but I have mine set to '
1.33
' so I can still read each menu option.
Press B or Back to get back to Main Menu (1st Column)

Select 'Configuration File'


Select 'Save Current Configuration'

WE. ALWAYS. SAVE. OUR. CONFIGURATION! everytime you make changes to the RetroArch settings, they need to be saved here to take hold
*

NOTE: sometimes pressing back while in the Menu can cause you to change a setting, depending on whats selected, so always be careful, and try pressing B first, if that doesnt seem to work, and you seem stuck in a menu screen try pressing '1.9.14 Core' in the bottom left-hand corner, sometimes this works if your buttons arent properly configured.
16:41

Downloading Cores
Start at Main Menu (1st Column)

select 'Online Updater'

select 'Core Downloader'
Download the following cores:
Arcade (FinalBurn Neo)
Nintendo - Gameboy/Color (Gambatte)
Nintendo - Gameboy Advance (mGBA)
Nintendo - NES/Famicom (FCEUmm)
Nintendo - SNES/SFC (Snes9x Current)
Sega - MS/GG/MD/CD (Genesis Plus GX)
Sega - MS/GG/MD/CD/32X (PicoDrive)
Sony - PlayStation (PCSX ReARMed)
18:22
Video Setup
Go into 'Settings' (2nd Column)

Select 'Video'
no changes are made to Scaling

Select 'Video Filter'

Select 'Normal2x.filt'

19:13

Controller Settings
Return to 'Settings'

Select 'Input'

Select 'Port 1 Controls'
Go through and select each control by pressing A, followed by the button referenced (B,X,Y,A etc)

This step is critically important and if it ever appears like your buttons arent responding, like B isnt allowing you to go back, or doesnt appear to be working in games, come back here and redo these steps. The buttons usually have values from 95-110, so if you ever see a value like.. 4, then you know that button isnt configured correctly. See table below

Press B to return to previous menu (Input)


Select 'Menu Controls


Toggle 'Menu Swap OK and Cancel Buttons'
Press B to return to previous menu (Input)
20:04
HOT KEYS
From the Input menu (under Settings)

Select 'HotKeys'
(Here you can really see why 1.5 is a little
too
zoomed in)

Toggle 'Confirm Quit'

Select 'HotKey Enable' by pressing
A
, then press the '
SELECT
' button
Follow the directions for Hotkeys actions you want to use (these are little commands like when you press ⌘+C or ⌘+V to copy/paste, where the Control/Command button is SELECT). You dont need to press SELECT again, just press A to select the action, and then the button you want to act as the command trigger.


Make sure you add Menu (Toggle) so you can access the Quick Menu. This Quick Menu is the easiest (if only) way to access console specific options, like changing the color palette for gameboy, which comes up later in the video.

Ive made some adjustments to his hotkey plan, since i dont care much to see the FPS, I changed
SEL+Y
to take a screenshot, and I changed
SEL+B
to just exit whatever game Im playing (

Close Content), and then moved Reset Game to
SEL+L
on the D-Pad: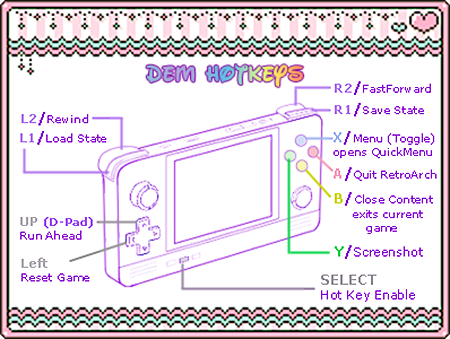 22:47
Auto Save Game Status
Go into 'Settings' (2nd Column)

Select 'Saving'

Toggle 'Load State Automatically'

Toggle 'Auto Save State'
23:07
Adding BIOS folder
Go into 'Settings'(2nd Column)

Select 'Directory'

Select 'System BIOS'

Select 'storage/'

Select 'sdcard###'

Select 'Games/'

Select 'BIOS/'

Select 'Use This Directory'
23:30
SAVE CONFIGURATION OR ALL WILL BE LOST
Return to Main Menu (1st Column)

Select 'Configuration File'

Select '
Save Current Configuration
'
QUIT RETROARCH! YOU DID IT!
yes, theres still a video and a half to go, but its pretty easy from here on out,
youre more than halfway through, and now its just a matter of adding games and cores.
Take a break if you want, or press on.


.

home
part 2