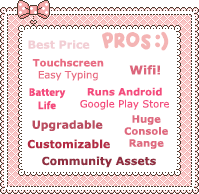 As of mid-2O22, the Retroid Pocket 2+ is vastly superior to all the other handhelds on the market in terms performance for the price you pay ($99 retail / $111USD shipped), and on top of that it has a lot of features that comparable models simply dont have:
touchscreen**
wifi connectivity
runs on Android 9
Running Android means you can download all sorts of apps from the google play store, and run .APK files (we'll talk about file types later in the guide, so dont worry if u dont know what that is).
**MAS IMPORTANTE: This is the '+' in Pocket2+. You may see the original Pocket 2 for sale on amazon, ebay and etsy, but IF IT DOESN'T HAVE PLUS IN THE PRODUCT NAME, IT WON'T HAVE A TOUCHSCREEN.

That being said, Retroid is a super woke company that doesnt play that planned obsolescence game and actually ships touchscreen plates for people that want to upgrade their regular Pocket 2s (but its a pain in the butt and beyond the scope of this guide, so just get the right one).
That touchscreen is gonna be clutch when it comes to entering text. You ever try entering a word with a remote? total chore. You can see other positives in the box above. Beyond that, you can take screenshots, you can hook it up to a television through HDMI, it even has a mic if you want to record something and a fucking FM radio. Plus they come in super cute colorways modeled after consoles like gameboy and the gamecube, or all black for the goth heads.
Here is a list of ALL the systems you can play on Retroid
I could go on and on about the benefits, but if you are considering purchase, there are two things youre gonna want to know about it advance.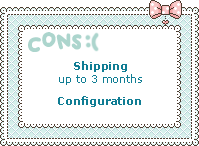 The Retroid Pocket 2+ is all over the place when it comes to shipping.
APPARENTLY RETROID HAS SORTED ITS SHIPPING ISSUES AND UNITS ARE NOW ARRIVING WITHIN 1-2 WEEKS OF PLACING ORDER.
Sometimes it takes 3 months (which it did for me), sometimes it takes two weeks (like my friend...and im not jealous about it at all). Theyre a small company based in France that manufactures out of china, where it ships directly from. They seem to produce small batches at a time, and ship when enough orders have been placed. Their site quotes a 35 day wait time from the day you order to the day it ships, with a two week delivery period on top of that. Some people receive within in two weeks, but if you order during a lull like i did, you could end up waiting as long as 3 months. Allegedly they are currently caught up, but there's no way to know what their status is when you place your order.
In addition, tracking for their carrier, 4HX, kinda sucks. You have to download a 50MB app that doesnt display any kind of info until the product actually ships, and generally won't update for the first week to ten days while it bounces around China. So this could be a painful process for those that are used to Amazon Next Day Shipping life.
BUT I AM STILL LEAVING THE FOLLOWING IN CASE THAT CHANGES:
Fortunately, Retroid has a huge, extremely tech-savvy fan base and community built around it (ANOTHER MAJOR PLUS!). To make up for Retroids shipping shortcomings, impatient and gracious

r/retroid users have built their own

shipping time calculator in the form of a google spreadsheet. It's usually accurate within a few days, but you have to check every now and then, because it will be updated as circumstances change. You can go ahead and enter today's date and see how long it could take for your retroid to arrive given current wait times, but remember to delete the field so it doesnt fuck their shit up.

TIP: Even if you're not a reddit user, enter a name anyway so you can easily pull up your info in the future, as the spreadsheet is added to frequently, and please remember to go in and mark when you receive your shipping notification and package to help improve their data!
THE CONFIGURATION
The Retroid Pocket 2+ is extremely customizable, as a result, configuring all the settings takes a god damn while. Be prepared to spend a full afternoon following tutorials and pressing pause every two seconds while you follow along. The tutorials that have been made, especially the one from Retro Gaming Corps (the golden standard), are a godsend, but assume a certain amount of working knowledge when it comes to emulation. Hence I made *this* guide to supplement existing ones, for complete N00Bs like myself. Also, it seems most gamers use PCs, while normies use MAC, so I've included a few important tips specifically related to MAC OS that I didnt see posted elsewhere.

OTHER OPTIONS
If you want a quick, out of the box option, Anbernic makes tons of different handhelds in different sizes, with varying capability. This means not all are going to be able to handle N64 and later consoles, so you'll have to carefully research what youre getting. Theres more than a few videos that do side-by-side comparisons to the retroid and the latest Anbernics, so watch those if you want to. A lot of Anbernics are repackaged on amazon through different companies (usually under the same model#), don't know much about these, but I do see quite a few shipped with pre-loaded SD cards. While 2500 games or whatever may at first sound like a time saver, think of how many titles you'll have to scroll through just to get to Super Mario Bros 2, considering how deep into the alphabet S is. And do you really need 39 variations of the same shitty racing rom?
If you do have the dough, then Odin (~$400-$500USD) seems to be the bad assest of the handhelds and you should be happy with that. There's also the absolutely massive Steamdeck thing that allows you to play games old and new. But you would have already known that thing if you were a L33t gamer and you wouldn't be here to begin with.

The fan community I mentioned earlier is absolutely stellar. As a result you have guides like the RetroGame Corps video series, message boards, spreadsheets and this site youre looking at right now. All the retroid resources (look for these icons [

:file] [

: community]) and links mentioned in this guide will be grouped together here for easy future reference, so go ahead and bookmark it now.
So hopefully I didnt scare you off too much with the shipping and configuration (and all the pink writing), and you still want to get that sweet, sweet emulation machine.
Go ahead and place your order in another window and then come back here, because there's still a ton of fun stuff you can do while you wait for your new toy to arrive.

In the next section we will go through the basic lingo, bookmark some videos youll need once the console gets here, and learn where and how to get games.